This quote by Oscar Wilde – 25 April 2020 resonated with me during this time of the coronavirus pandemic.
"Simple pleasures are the last healthy refuge in a complex world."

Oscar Wilde, playwright, novelist, and poet
As I sit at home, staying at home and working from home, I do find that it is the moments in my life right now that bring me simple pleasures.
They can be a moment when I take a break from work that I am doing now at home, sipping coffee and enjoying every bite and taste of a scone. A few minutes to watch entertaining YouTube videos. A quick hug for my niece. A short chat with my Mom.
Each moment brings such gentle pleasures and joy. The joy of freeing the mind from work for a few minutes. The joy of bonding with my niece and my Mom.
And in those moments of simple pleasures, I do find refuge from a world that has changed. A world that has everyone social distancing, staying home, and working from home. A world that can spiral into long days of continuous work if not for those short interludes.
---
Who was Oscar Wilde?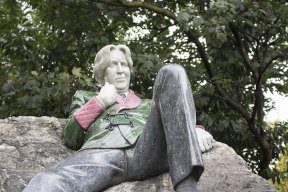 Oscar Wilde was an Anglo-Irish playwright, novelist, and poet. While he created controversy with some of his writings, he is still considered as one of the greatest playwrights of the Victorian era.
He wrote classics such as The Picture of Dorian Gray, Salome, and The Importance of Being Earnest. You may have seen movies made from his stories. They are great, aren't they?
Oscar Wilde was also a spokesman for aestheticism. This movement puts an emphasis on aesthetic values more than moral or social ones.
He was well known for his wit and flamboyance. And he he had affairs with men, too. He was imprisoned for his homosexual relationships which were considered a crime back in those dark days.
I am so sorry to hear this part about his life. If he lived today, I am sure he would have lived and enjoyed a better life.
---
What Are The Simple Pleasures?
During this coronavirus pandemic, it is good to take a bit of time off from the normal routine or after hours of working. A break can reduce stress.
The change in pace can also clear the cobwebs in our minds. It can recharge us. And have us ready to take on the world again.
When I taught in institutes and universities, the schedule would include a tea break in the morning around 10 or 10.30 am. And an afternoon tea break around 3 to 3.30 pm.
When I work from home, I practice this same schedule. I find it very useful to take these small breaks. I feel refreshed after each time.
In life, there are so many things that can bring us simple pleasures. It can be a hot cup of coffee after hours of hard work. Painting that masterpiece that you have always wanted to do.
I try to do different things during the breaks. Sometimes, I would have a quiet time, sipping a hot cup of coffee with a snack. Sometimes, I would chat with my Mom or my niece. Sometimes, I even do a bit of cleaning the house.
At times, I would even close the windows and doors. Switch on the air conditioning. And meditate. Here is a meditation that I do whenever I need a break. It really helps me to clear my mind.
What do you do for simple pleasures? Let me know by adding a comment below.
---
---
Did you like the quote by Oscar Wilde Quote – 25 April 2020? How do you feel about Oscar Wilde? How has this quote inspired you? Let us know by adding a comment below.
If you have any questions regarding anything mentioned here in this section, ANY at all, please feel free to ask by adding a comment in the comment box below. I will be more than happy to help.
Looking for affirmations to help you manifest the life you desire? Go to the Good and Positive Affirmations section, please.
Wishing you an awesome life filled with abundance, love and light.
Timotheus
Timotheus has been meditating since a child. He believes thoughts become things. And shares posts to encourage everyone to have a positive mind. He also shares his spiritual knowledge and experience when he can in the articles he writes. To learn more about him, and Flowing Love Meditation, Click Here.