Family Needs Help, Volunteers Give Free Home Makeover
This story is close to home. It happened in Singapore. This piece of Good News showed me that there are still good people in this country, and in the world. The story is about – Family Needs Help, Volunteers Give Free Home Makeover.
Every morning, I browse the Google feed, and see many sad and depressing news. Today, I am so happy and grateful to come across this story.
It was a story about a family in need of better living conditions, a grassroot leader who stepped up and organized help, and volunteers who came and gave the best gift to an elderly couple and their son.
---
Family Needs Help, Volunteers Give Free Home Makeover – The Video
Here is the video by The People's Association (a local Singapore organization), featuring this story. It can get emotional. Get ready tissues, and please watch.
---
Who Is The Family That Needed Help?
The Yeong family stayed at one of the districts in Singapore. They lived in a government flat called HDB (Housing Development Board). They have been there for many years.
Over the years, clutter accumulated. There were stuff kept in plastic bags all over the place. Bed bugs and insects were also rampant.
Madam Yeong was in her sixties. And her husband was also in his sixties. He was wheelchair-bound after suffering a stroke. They have a son who lived with them too.
The living conditions were so bad that Madam Yeong slept every night on a chair, and her husband slept on the wheelchair. The son slept on pieces of cardboard laid in the kitchen.
---
How Did Volunteers Help?
Grassroot Leader, Madam Chris Chu heard about their predicament. She gathered volunteers to help clean the Yeong's flat. What started as a small group of volunteered turned out to 60 volunteers.
They cleaned the flat by removing all the rubbish. And stored the Yeong's belongings at a warehouse.
Pest control was brought in to clear the home of all the bugs and insects. The pest control generously did the whole treatment for free!
Eventually, the whole apartment was given a fresh coat of paint. And some new furniture were bought for the family. When the Yeong returned to their flat, they could not believe their eyes. It was like a totally different house.
Please watch the video above for the whole story.
---
Who is Volunteer Group?
While the Yeong family's plight was highlighted by the Serangoon Moral Family Service Centre, the large group of 60 volunteers were from the volunteer group called Keeping Hope Alive.
They did a great job. Bless them.
---
Who is Grassroot Leader?
When you watch the video above, it will explain that the grassroot leader was Madam Chris Chu. Watch the video for more information about who she is, and how she has been helping the people at Braddell Heights.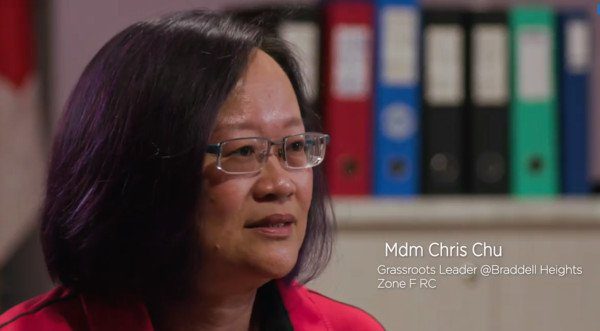 Bless her.
---
Did you like our Good News article – Family Needs Help, Volunteers Give Free Home Makeover? Let us know by adding a comment below.
We will be sharing more good news soon. Besides good news, we will share motivational and inspirational stories and quotes. So do join our Good and Positive Community to receive updates when we publish more good news.
If you have any questions regarding anything mentioned here in this article, ANY at all, please feel free to ask by adding a comment in the comment box below. I will be more than happy to help.
Wishing you an awesome life filled with abundance, love and light.
Timotheus
Timotheus has been meditating since a child. He believes thoughts become things. And shares posts to encourage everyone to have a positive mind. He also shares his spiritual knowledge and experience when he can in the articles he writes. To learn more about him, and Flowing Love Meditation, Click Here.