Hi! Welcome to the first article in the Good News section! I am so excited that the first article is about a Dog Rescued by Oscar Winner Jaime Ray Newman and Hope For Paws.
Sure, this is a story that is 2 years old. But it is still a good story and is heartwarming, too. I shared this on Facebook back then. And now that this section started, I believe it is so apt as the first entry.
---
The Rescue
Did you know that there are thousands of homeless dogs roaming the streets of Los Angeles? Thousands! Isn't that so sad?
But we are here today not to be sad. After all, this is where you can find good and positive articles for your good health and wellness. Today, we join Jaime Ray Newman and Hope For Paws to rescue a small dog.
Hope For Paws received a call about a small dog in need of rescue. Together with Jaime Ray Newman, they drove to the place where he was spotted. Jaime Ray Newman spotted the little guy sleeping in a school yard.
The poor little guy had been wandering the streets of Los Angeles for weeks then. Jaime and Hope For Paws observed him for a while. They didn't want to spook him because they heard that he would run away whenever someone tried to get close.
They closed the gate, and slowly approached the little doggy. They managed to snare him, but he struggled. Fearful, the little one tried to escape.
Jaime and Hope For Paws managed to calm him down with gentle coaxing, food and love. Eventually, they were able to gain his trust. Jaime even placed her lucky leash around him. And hugged him, even named him Seymour.
They brought Seymour back for a warm bath and care. Days later, Art n Paws Animal Rescue came to foster him. Very soon after that, they helped to find a loving home for Seymour!
Below is the entire video of what happened. Please do watch the video. Oh, and have tissues ready.
---
Dog Rescued by Oscar Winner Jaime Ray Newman and Hope For Paws – The Video
Here's the video of how Seymour, the doggy, was rescued by Jaime Ray Newman and Hope for Paws. It is definitely worth watching. Especially to see Seymour rescued and transformed into a happy and playful little dog.
Thank you to Jaime Ray Newman and Hope For Paws for this wonderful video and good story about Seymour. Bless them all.
---
About Jaime Ray Newman

By Harald Krichel – Own work, CC BY-SA 4.0, Link
I first noticed Jaime Ray Newman on the very popular sci fi TV series, Eureka. She was awesome! She has since starred in many top shows like Veronica Mars, Grimm, Drop Dead Diva, Bates Motel and The Punisher.
Her film credits include Catch Me If You Can, Rubberneck, and Tarzan. In 2019, together with her husband, Guy Nattiv, they won the Oscar for Best Live Action Short, for the drama Skin.
She has also appeared in Broadway, starred in Proof, The Gift, Some Girls, Turnaround, and many more.
Jaime Ray Newman hails from Detroit, Michigan. She graduated from the Northwestern University, Evanston, Illinois.
It is awesome that such an accomplished actress, producer and singer has taken the time to help save a dog. Kudos.
---
About Hope For Paws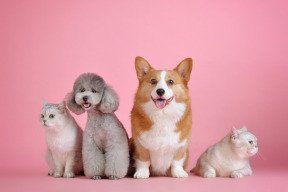 It was through watching the above video that I first heard of Hope For Paws. I learned that they are a non-profit animal rescue group based in Los Angeles, California.
The group was founded by Eldad and Audrey Hagar in 2008. What they do is to rescue homeless, injured, abandoned or abused cats and dogs. Hope For Paws would pay for veterinary costs to save them.
Also, they work with other animal welfare organizations to find loving homes for the animals. In the video above, Hope For Paws worked with Art N Paws Animal Rescue, and found Seymour an awesome loving family and home.
One of the powerful and effective way of raising awareness of the good work they do is by filming their rescue efforts and posting on their YouTube channel. The videos also share the transformation of the animals. The above video is one of their videos.
Their videos have appeared on Anderson Cooper's and Kristin Chenoweth's program. Ellen Degeneres also tweeted about a malnourished and diseased stray, called Miley, who was barely surviving in a trash heap.
Over time, Hope For Paws have gained thousands of supporters around the world. If you would like to give your support to them, please visit their website.
---
Did you like our first Good News article – Dog Rescued by Oscar Winner Jaime Ray Newman and Hope For Paws ? Let us know by adding a comment below.
We will be sharing more good news soon. Besides good news, we will share motivational and inspirational stories and quotes. So do join our mailing list to receive updates when we publish more good news.
If you have any questions regarding anything mentioned here in this article, ANY at all, please feel free to ask by adding a comment in the comment box below. I will be more than happy to help.
Wishing you an awesome life filled with abundance, love and light.
Timotheus
Timotheus has been meditating since a child. He believes thoughts become things. And shares posts to encourage everyone to have a positive mind. He also shares his spiritual knowledge and experience when he can in the articles he writes. To learn more about him, and Flowing Love Meditation, Click Here.